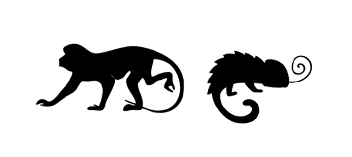 Co mają wspólnego małpa i kameleon z logiem Leona?
W Polsce znak @ nazywamy małpą. I choć internet jest globalny to prawie każdy kraj ma swoje nazewnictwo dla tego znaku. Poza Polską możesz się z nim spotkać np. w Bułgarii. Śledź, ślimak, ucho słonia… to tylko niektóre nazwy dla tego znaku, które funkcjonują w innych krajach. Jaki ma to związek z logiem Leona? 
"Skoro Szwedom znak @ przywodzi na myśl ucho słonia, Duńczykom zaś ogon świni, a Rosjanie kojarzą go z psem, to dlaczego nie kameleon?" – wyjaśnia Piotr Majcher, prezes i współzałożyciel Leona, a także autor logotypu.
Tak więc Leon miał własny pomysł na ten znak. Zakręcony ogon nie był małpą lecz ogonem kameleona. 
Wygląda na to, że określenie 'małpa', podobnie jak każde inne nie ma żadnego poważnego uzasadnienia, poza tym, że znak @ może faktycznie przypomina to zwierzę.
A  oto nasz 'kamelon' oczami kilkuletniej córki jednego z naszych pierwszych Klientów. Być może dziś czyta ten tekst ;)?